Spotify is the world's largest music streaming service in terms of subscribers. It contains content from artists all over the world, covering content such as audiobooks, podcasts, songs, etc. It comes with various features and can be accessed easily, no matter what device you are using. You can use Spotify through an app or by using the Spotify Web Player.
Spotify Web Player is a way for Spotify users to use its library directly from their browser. It is designed similarly to the application and provides a convenient way of listening to content on a tab while working without having to switch applications/programs to change tracks. However, sometimes the Web Player does not work. In this article, we will discuss how to fix the "Spotify Web Player Not Working" problem.
Why is Spotify Web Player not working?
There are various reasons for why the Spotify Web Player might not be working. Some of them are:-
1. Internet issues
Internet issues can cause any website not to load properly, and the Spotify Web Player is no different. If your internet is down, Spotify Web Player will fail to load.
2. Browser issues
Browser issues can be caused by any element of the browser, such as using an outdated version, clogging caused by cache and cookies, certain settings that disallow sites to operate correctly, and much more.
3. Operating system issues
Certain operating systems are incompatible with media playback and can disallow apps and websites like Spotify to not load on your device. 
4. Spotify service outage
It is common for services like Spotify to face service outage at times due to maintenance reasons. Make sure that you are not trying to perform a Spotify Web player login as this tends to be an issue that is common for all users and not just you.
How to fix: Spotify Web Player Not Working
Since there are a number of reasons Spotify Web Player does not work, there are also endless ways of fixing it. They include:
1. Check your internet connection
Sometimes internet-based issues boil down to the root cause. If your internet connection is inactive, you will not be able to access any online content, let alone the Spotify Web Player. Make sure to check your internet connection by running a speed test. If it is inactive or shows extremely low levels of speed, you will have to fix that issue first before being able to access Spotify.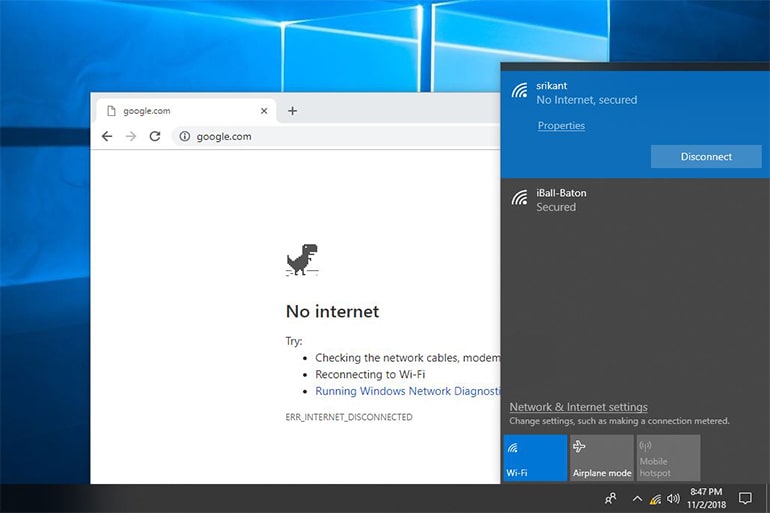 2. Clear browser cache and cookies
Though browser cache and cookies help the browser load up content by saving useful content for later use, it can also make your browser clunky. If there is too much cache and cookie data saved up by your browser, it can cause lag for other websites such as Spotify Web Player. Clear browser cache and cookies by going to the Settings option in your browser. Then restart the browser and see if the Web Player works.
3. Update the browser
Using an outdated browser may seem clever at first, but the saving on storage is certainly unworthy considering that it may cause certain websites to bottleneck over time. Spotify Web Player could be one of these websites too. Make sure your browser is running on the latest version available. If not, update it and check if that changes anything.
4. Tweak the browser extensions
It is common for users to use extensions such as adblockers to create a seamless browsing atmosphere for themselves. However, this can create a barrier for sites like Spotify Web Player. Make sure to tweak some of your browser extensions and see if it helps to log you into Spotify using your browser.
5. Enable Protected Content
There is a setting in the Chrome browser (and in many other browsers) that Spotify requires enabling from the users. If this setting is the cause for "Spotify Web Player not working" issue, you will see the message Playback of protected content is not enabled" when you open the website. To enable this in Chrome, follow these steps: 
Step 1: Open the browser settings on Chrome.
Step 2: Locate the "Protected Content" option.
Step 3: Enable "Allow site to play protected content" and restart the browser to see if Spotify Web Player works.
6. Try a different browser
Sometimes certan browsers tend to bottleneck with certain websites failing to load them properly. This could be a potential reason why Spotify Web Player won't work for you. Try opening it on a different browser and see if your problem is fixed.
7. Restart your computer
Software issues can sometimes disable media playback or disallow certain features to not work correctly. Try restarting your computer and see if Spotify Web Player works for you.
8. Switch devices on Spotify
If the Spotify Web Player loads up correctly and shows that a track is playing but you are receiving no audio playback, you can check whether Spotify has accurately selected your device you wish to use. Spotify recognizes all your logged in devices and it can sometimes continue playing on another device despite you trying to use it on another.To fix this, go to Settings -> Devices, switch to the correct device and choose Web Player.
9. Enable Windows N media playback
Windows N is similar to Windows 10 but does not come with media playback out of the box. If you use it, download and install Media Feature Pack for "N" versions of Windows 10. You can find them on Microsoft's website with a guide on how to enable it.
Conclusion
Spotify has become a daily tool for users worldwide. With a vast amount of content available on the website, it is very hard to ignore the streaming service. It is common for users to use the Spotify Web Player to play their favourite music, podcasts,  or audiobooks while using their computer.
However, sometimes the Spotify Web Player does not work. We discussed the reasons that could be causing this issue and how to fix it in the article above.