Apple's in-built messaging service iMessage has gained immense popularity among users due to its seamless integration within the Apple ecosystem. It comes bundled with all Apple devices, allowing users to exchange text messages and multimedia and even conduct audio/video calls to other Apple users without relying on traditional SMS or MMS services. But sometimes, an unexpected error named iMessage waiting for activation can ruin your day.
Let's talk about the error in detail, and in the end, I'll give you some quick tips to get rid of this issue and reinstate your iMessage services.
QUICK FIXES
▶ Confirm that your iPhone has the correct time & date, along with the time zone.
▶ Ensure you are connected to a stable network (Wi-Fi or Cellular).
▶ Quickly check for an iOS update or iMessage app update to download the later version.
iMessage Waiting For Activation: What Does It Mean?
The "iMessage Waiting for Activation" is a common issue experienced by Apple users when trying to activate or use iMessage on their devices. If your iMessage says waiting for activation, this can mean a few things: Take a look:
Your iMessage app is wasting for activation
An unexpected error occurred during the activation process
The activation has failed
Sign-in failed due to a network issue
iMessage servers are not responding
The "iMessage Waiting for Activation" error message indicates an issue with the activation process, hindering the proper functioning of iMessage. It is important to differentiate between this error and a simple notification prompting you to wait for the activation process to complete.
According to Apple, the iMessage activation process can take up to 24 hours. Therefore, if you do not gain access to the service within this time frame, it suggests that there is an underlying problem that requires attention and resolution.
What Contributes to the Error?
Let's take a look at some major reasons that might be interrupting the iMessage activation process:
Network connectivity issues or unstable internet connection.
Incorrect Apple ID or iCloud account settings.
Carrier restrictions in particular geographical location.
iOS software or firmware-related problems.
Outdated iOS or iMessage version on the device.
Apple servers are down due to technical issues or maintenance purposes.
Inconsistent or conflicting network settings within the device.
Incomplete or failed activation process during device setup.
Issues with Apple's activation servers.
Anomaly or glitch in the iMessage application itself.
How to Fix iMessage Activation Glitch?
In this section, I am going to provide you with simple DIY steps that you can apply without any professional assistance. We'll begin with some common fixes and gradually move towards more technical ones.
Before you begin, there are a few pre-checks you must perform:
▶ Make sure you are connected to a stable internet with decent signal strength and latency. You can use a speed test app to measure your connection speed.

▶ The date & time in your Apple device is correct, along with the time zone. You can simply go to Settings and choose to automatically set time and date.
1. Restart Your Device
A simple reboot refreshes the system and can often solve the complex technical glitches in electronic devices. Before you modify settings, it's a good idea to restart the device and check if the activation issue has been resolved.
2. Verify Apple ID and iCloud Account
Next, you must check you are using the correct Apple ID. Take the following steps:
Go to Settings by tapping the Gear icon from the home screen.
Navigate to Messages and then tap on Send & Receive.
Check if your Apple ID and phone number are correctly stated.
Here is something you can try as well:
Tap your Apple ID and select Sign Out.
Go to Settings ➡ Messages and turn iMessage off using the toggle switch.
Next, scroll to Wi-Fi and turn it off and back on in a gap of a few seconds.
Turn the iMessage on.
Go back to Send & Receive and tap on Use your Apple ID for iMessage.
Tap on Sign in and provide correct credentials.
This should get your iMessage up and running. If not, move to the next step.
3. Check for iOS Update
An outdated version of iOS can also delay the activation of iMessage. Before you update your device, make sure it is connected to a stable Wi-Fi network and has sufficient battery or is connected to a power source.
Here is what you can do to check for an update:
Launch the Settings app on your iOS device.
Scroll down and tap on General.
From the General menu, select Software Update.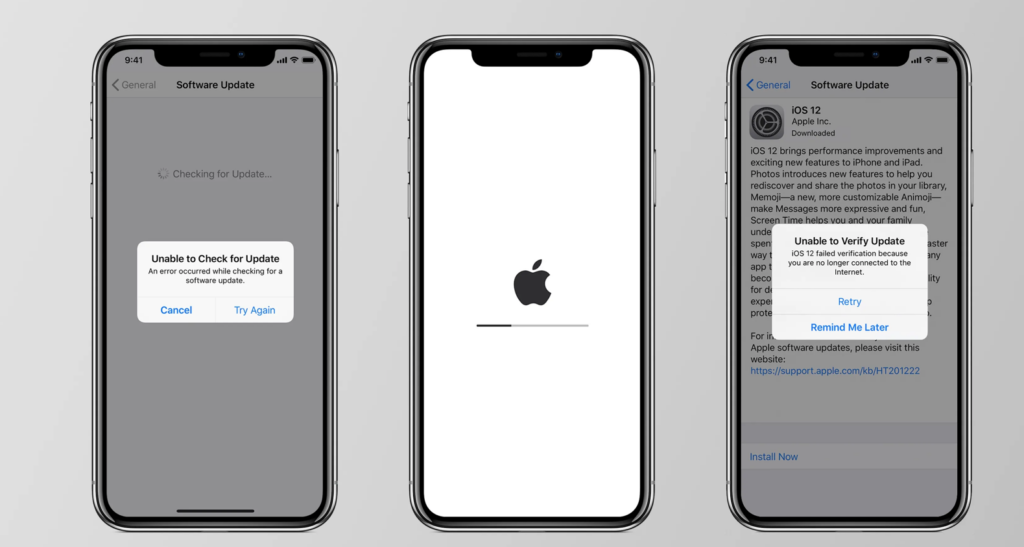 The device will check for available updates. If an update is available, you will see a message indicating the availability.

Tap on Download and Install to initiate the update process.
Provide your passcode to proceed, if needed.
Tap on Install to proceed with the installation.
The device will restart during the installation process. Once the update is installed, launch iMessage and check if the activation error has been rectified.
4. Contact Your Provider
Still facing the issue? There is a chance it's caused by network restrictions in your area. Contact your service provider to ensure there are no restrictions or technical problems on their end that might be affecting iMessage activation.
You can also visit your ISP's official website or social media pages to know the current status of service in your area.
6. AppleCare
If you've failed to address the issue, Apple Care is your last resort. Reach out to Apple Support for further assistance. The technical team may walk you through a step-by-step troubleshooting process or provide personalized guidance and troubleshoot the issue specific to your device.
Before you contact Apple Care, keep all the necessary information handy such as your IP address, Apple ID, iCloud details, and more.
FAQs
1. Why does my imessage say waiting for activation?
A. The Waiting for activation error occurs due to issues with the activation process or network connectivity problems.
2. How do I get my iMessage to activate?
A. To activate iMessage, ensure a stable internet connection, verify Apple ID settings, and toggle iMessage off and on.
3. How long does Apple iMessage activation take?
Apple states that iMessage activation may take up to 24 hours, but it typically occurs much sooner.
Conclusion
The iMessage activation is a common error that occurs mainly due to poor network or incorrect setup process. I hope the steps mentioned in this article will help you restore your messaging service in a short time.
If you are still getting imessage waiting for activation error, you must contact your service provider and Apple care for further assistance.