Illustration and painting apps have transformed how creators design and showcase their artwork. Many apps help illustrators do their job, but apps like Procreate are in their own league as users continue to choose them for their artwork.
Procreate is a painting and illustration app exclusive to iPad and iOS. It is widely used by Apple users and has also attracted many Android and Windows users towards it. Unfortunately, a Procreate Windows app is something that is currently unavailable. However, we will discuss many Procreate alternatives for Windows in the article below.
Best Apps Like Procreate for Windows in 2023
1. Adobe Photoshop
Every digital creator is aware of Adobe Photoshop as one of the leading bodies in the creator space. It offers various tools like Procreate that can be used to create detailed illustrations and paintings, such as brushes, layers, and masks.
Users of Adobe Photoshop can use it for illustrations as well as adding detailed elements of photo editing into their designs. Moreover, if you have other Adobe tools like Adobe Illustrator and Adobe Photoshop Sketch, you can make further additions to your projects. Overall, an excellent alternative to Procreate if you can afford the price tag of US$20.99/mo. 
Pros:
Reliable tools that help in creating detailed projects
User-friendly
Easy to integrate with other Adobe products for creation
Cons
2. Krita
Krita is an excellent creator software offering professional-level digital artwork creation tools. It is free to use and open-source in nature, allowing its users supreme customizability without spending any money.
If you are a comic-book creator, a painter, or someone looking to create complex designs for your project, Krita has you covered. You can also use this app to create animated projects. Therefore, you can even design your own animations using the illustrations you create on the app or by using templates.
Pros
Free to use
Open source; allows for customizability
Professional-level tools
Includes animations
Cons
It can be tough to get used to
3. Corel Painter
Corel Painter is one of the most advanced illustration applications out there with over 900 brush choices and high-quality tools to adjust your projects. It can handle all kinds of illustrative projects, and many professionals use it to create artwork.
If you are a serious illustrator, Corel Painter is a great selection. Though it may have a steep learning curve, it is eventually worth it due to its customization options. Its pricing starts at $271. In a nutshell, if you are looking for Procreate for Windows 11, just go for this app.
Pros
Over 900 brush options
Professional-level tools
Supports extensions
Cons
4. Autodesk Sketchbook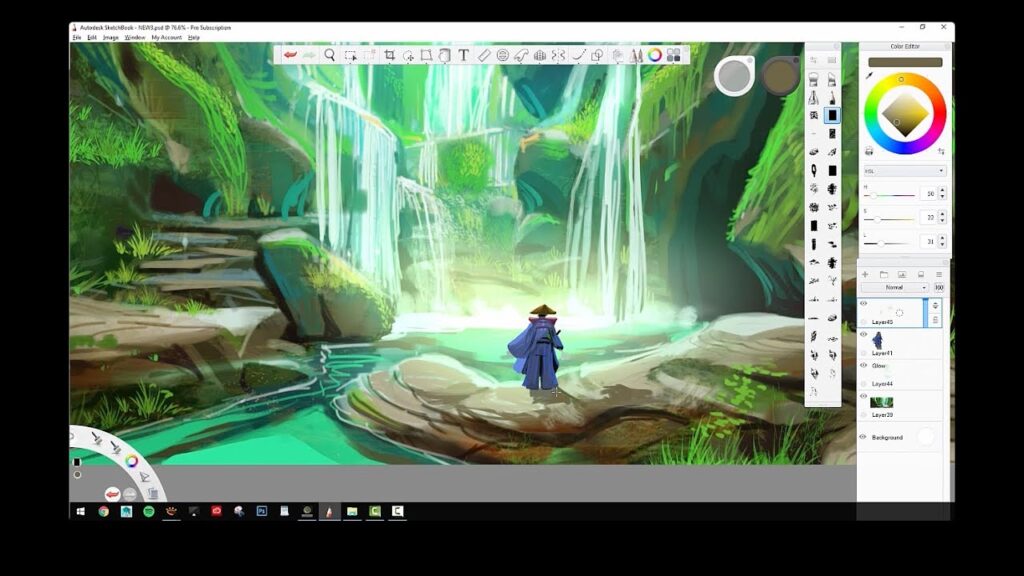 Autodesk Sketchbook is another free alternative to Procreate that offers high-quality design tools. It has a comprehensive brush library, layer support, and a flipbook animation tool to create animations.
For those looking for Procreate for Windows 10 on a touchscreen device, Autodesk Sketchbook is a clever alternative as it comes with palm rejection that enables you to create designs seamlessly. This app can also handle architectural work, as known by many civil engineers who get taught about Autodesk in college.
Pros
Free to use
Palm rejection
Comprehensive brush and color library
Cons
It can be tough to get used to
5. ArtRage
Digital creator tools can sometimes fail to replicate true-to-life colors and illustrations. ArtRage focuses on delivering exactly that. It has realistic media that simulates traditional drawings and paintings using models of oils, watercolors, pencils, and pastels. It is available at a price tag of US$49.
ArtRage is available on Windows, Mac, and even mobile devices. Therefore, you can save your projects on one device and use them on another. It is a truly seamless experience. The application has a simple UI, making it easy to learn and use. Highly recommended for beginners.
Pros
Easy to use
Realistic media
Available on multiple platforms
Cons
Cannot handle complex projects like animations
6. Affinity Designer
Affinity Designer is not your typical drawing and sketching tool. It is primarily used for graphic designing. However, if you use it correctly, it can turn out to be one of the best Procreate alternatives for Windows. Though it is also available on mobile devices and macOS.
Vector and pixel editing is where Affinity Designer excels the most. This feature can help users create complex illustrations that can't be matched by any other. It also has a non-destructive feature that lets users make changes to a design without altering the original. You can also add effects to your designs such as shadows and glows. The entire creative suite of Affinity Designer costs US$169.99.
Pros
Can create complex designs
The non-destructive feature helps undo errors
Available on multiple platforms
Cons
It does not support plugins
7. MediBang Paint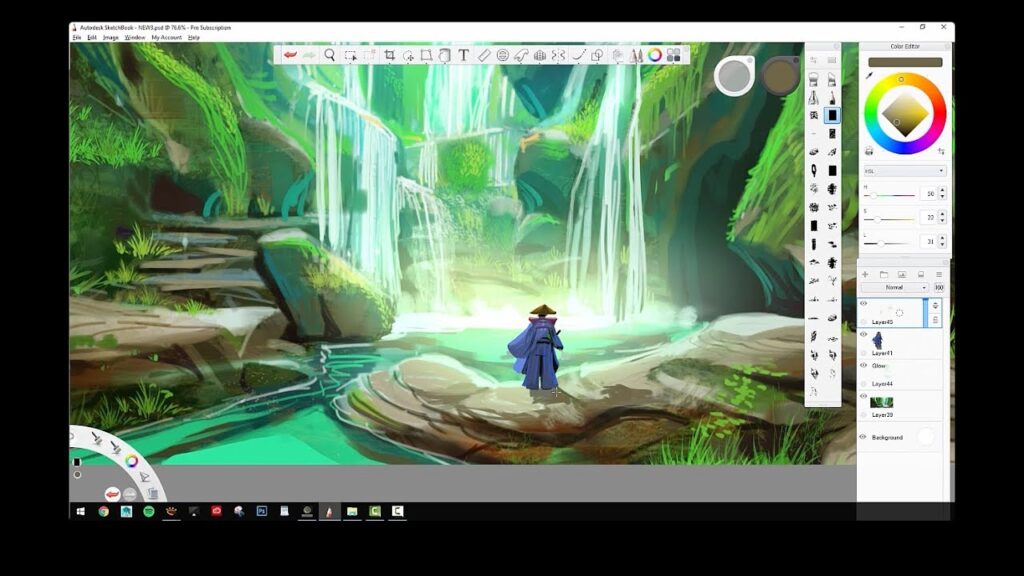 MediBang Paint is a free tool specially designed to create comic book illustrations and animations. It offers a range of brush options and layer support to create high-quality illustrations.
The app also offers comic book-based features such as flipbook animations, speech bubbles, and comic templates. You can use these tools to test out how your illustrations look on a comic book page and create entire comic books within the app. You can also save all MediBang Paint data in the cloud.
Pros
Free to use
Comic book-based features are exceptional
Cloud support
Cons
Lacks some advanced features
Frequently Asked Questions (FAQs)
Q1. Is Procreate available on Windows?
A. Unfortunately, Procreate is not available on Windows. However, there are various Procreate alternatives for Windows that you can use that are just as good if not better.
Q2. What can I use instead of Procreate on Windows?
A. You can use many apps that are just like Procreate on Windows. Some of them include Adobe Photoshop, Corel Painter, Affinity Designer, and ArtRage.
Q3. Is Krita better than Procreate?
A. Unlike Procreate, Krita is open-source and free to use. Therefore, it allows users to save up money. As for features, both have professional-grade features that are comparable to each other. Krita is better than Procreate in some aspects and vice versa.
Q4. What is the closest app to Procreate?
A. The closest app to Procreate is Corel Painter. It offers over 900 brush choices and tools that are similar to Krita. It is an excellent creator tool used by professionals.
Q5. Is Procreate better than Photoshop PC?
A. Whether Procreate is better than Photoshop PC is very subjective. Procreate focuses on digital illustrations and paintings, whereas Photoshop offers a broad range of features that enable users to create complex designs. Choose an application based on the artwork you are going for.
Conclusion
In conclusion, Procreate is currently unavailable on the Windows platform be it Procreate for Windows 10 or Procreate for Windows 11. Therefore, you must look at other apps for your art projects. Thankfully, there are various Procreate alternatives for Windows, which we discussed in the article above.