Sprint is a renowned mobile network provider in the United States, recognized for its wide network and clear call quality. It usually employs LTE technology for calls, offering a quicker call connection, a congestion-free network, and an enhanced calling experience. Nevertheless, the error message indicating LTE calls turned off Sprint has been creating a lot of trouble for users.
If you are facing a similar issue on your phone, you've come to the right place. Today we are dissecting this error message to find out its underlying causes. We will also explore some DIY troubleshooting techniques you can try to get over this annoying network problem.
LTE: At A Glance
Before jumping to solutions, let's take a look at LTE technology. LTE, or Long-Term Evolution, is the latest standard for wireless communication after 3rd Gen technology. It is referred to as 4G technology that provides faster internet speeds than its predecessors. Similar to previous technologies, it supports voice calls but uses different channels to connect a call.
Traditional phone calls use Circuit Switched Fallback technology, which switches your phone from the LTE network to the 3G or 2G network to make the call. Contrary, LTE calls use Voice over LTE (VoLTE) technology which uses an LTE network for voice calls. Naturally, VoLTE provides better call quality and faster call setup times because of the advanced networking algorithms and higher bandwidths.
LTE technology has gained immense popularity due to its superior speed and quality as compared to its predecessor, 3G. Despite the recent launch of 5G, LTE remains the most widely used wireless communication technology across the globe.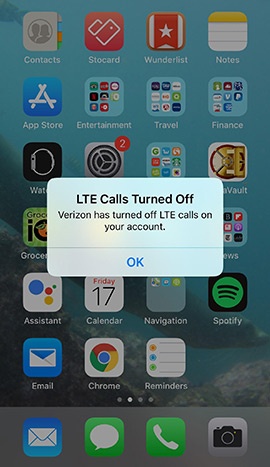 Sprint LTE Calls Turned Off: What Are The Reasons?
When you see LTE Calls Turned Off on your Sprint phone, it means that your phone has been barred from making or receiving VoLTE (4G) calls. But that doesn't mean you can't make a phone call at all. However, you can still use LTE internet
Instead, it will use the traditional 2G/3G network to make calls resulting in poor call quality, long setup times, and more call drops. This can happen due to congestion in the network, an issue from the provider, etc.
However, the issue doesn't stop you from using Sprint data services you can still use the LTE network to access the internet, and all the internet-based services will continue to work without any interruption.
Here are some reasons why Sprint has turned off LTE calls on your device:
| | |
| --- | --- |
| ISSUE/Reason | EXPLANATION |
| Poor Coverage | In an area with poor LTE network coverage, LTE might be disabled, and your phone will use 2G/3G to make a call. |
| Network Maintenance | During the regular maintenance of the network infrastructure, the provider may temporarily suspend certain features, including LTE calls, |
| Technical | Technical issues at the carrier's end may lead to the suspension of LTE calls until they can fix the underlying issue. |
| Compatibility | LTE calls may not be compatible with some devices, particularly older ones. |
| Software/hardware | If there are issues with your device's hardware or software, it may not support VoLTE, resulting in LTE Calls being Turned Off. |
| Account | If your Sprint account has been suspended or canceled, you may see LTE Calls Turned Off on your phone. |
| Relugatory Issue | Some countries/locations may have restrictions on the use of LTE technologies. If a carrier is operating in such a country, it may need to turn off LTE calls to comply with local regulations. |
How To Fix the Issue
1. Restart Your Device
Let's begin with the easiest method – A quick restart. Restarting your device reset the settings and can often help fix issues related to network connectivity. Turn off your device and then back on to see if the issue resolves itself.
2. Switch to Manual Network
The next step is manually searching for the network. By default, the device connectivity settings find the correct network and connect to it. But sometimes, due to poor coverage, it may struggle. To search for the network manually, take the following steps:
Tap the gear icon to launch system settings.
Tap Network & internet and select Mobile network.
Scroll down and tap on Advanced.
Use the toggle switch to disable Automatic network search.
Wait while your phone searches for the available networks in the area.
From the list, tap Sprint and register to it.
Try to make a call and check whether the issue has been resolved or not.
3. Reset Network Settings
Resetting your device's network settings can help fix issues related to connectivity. This is how you do it:
Go to the Settings app on your device by tapping the gear icon.
Scroll down and select System.
Tap on Advanced and select Reset options.
Tap on Reset Wi-Fi, mobile & Bluetooth.
Review the warning message and tap on Reset settings.
4. Check for Software Update
Sometimes, outdated software may cause connectivity issues in your device. Check for software updates and install if there is an update available.
To check for updates, go to Settings ➡ System ➡ Advanced ➡ System update.
After tapping on System update, your device will search for the latest updates released by the manufacturer. Make sure you are connected to a stable network during this process. If you have an update, download and install it.
5. Check Your Plan
In case you are still unable to make LTE calls, it is important to ensure that your Sprint plan has not expired. If it has, then you will be unable to use any network services such as mobile data, streaming, downloading, and making calls.
Additionally, the LTE calls have been turned off error message may pop up because your carrier has imposed a data cap on your phone plan, and the service has been suspended cause you've exceeded the limits.
To avoid this situation, it is recommended that you always ensure you have uninterrupted services from Sprint and that you purchase a plan that offers enough data allocation and calling facilities.
6. Reach Out to Customer Care
Still not able to make LTE calls on your network? Sprint customer care is your last resort. If none of the above steps helped you, it's best to contact Sprint customer support for assistance, and they will guide you through the troubleshooting process step-by-step over the phone.
Conclusion
If you are searching for "why are my LTE calls turned off Sprint," you are not alone. This error message can be frustrating and inconvenient, especially if you rely on your phone for work or personal use.
However, there are a few things to keep in mind when troubleshooting this issue. Firstly, ensure that your subscription plan is active and you have a strong network connection. If these are not the issue, then try the DIY methods explained earlier in this article. If those don't work, don't worry – contacting Sprint customer support is always an option.